ELRS nano modul
Popis
ExpressLRS je open source projekt, který se snaží docílit co možná nejrychlejšího spojení (nejmenší zpoždění) v komunikaci mezi přijímačem a rádiem. Nespornou výhodou jsou miniaturní rozměry a použití keramické antény (není potřeba vymýšlet kam anténu přimontovat a nemusíte se bát o to, že ji posekáte vrtulemi). I s těmito vlastnostmi se však jedná o spolehlivou volbu pro racing i freestyle koptéry.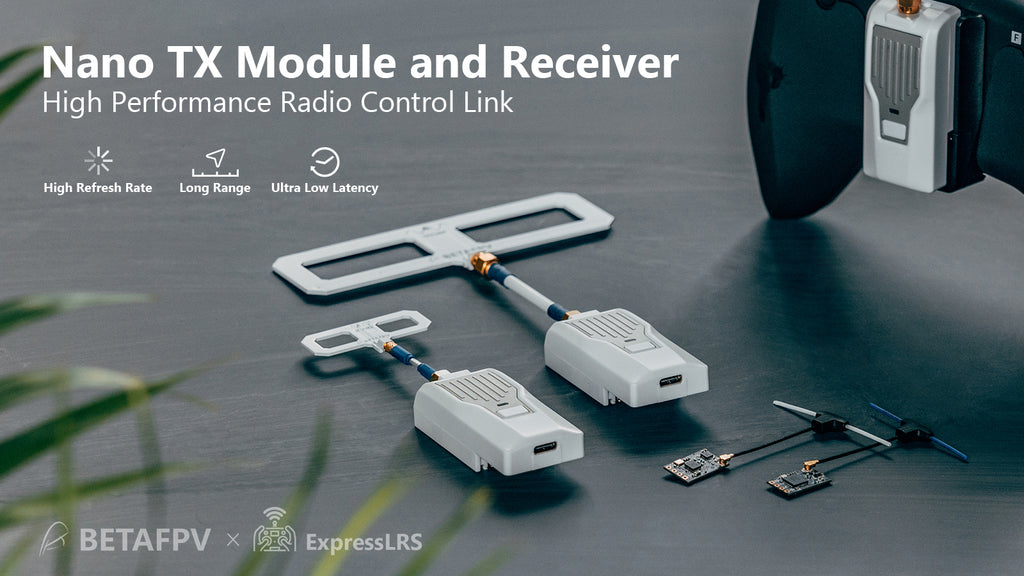 Specifikace
Packet refresh rate: 25Hz/50Hz/150Hz/250Hz/500Hz

RF output power: 100mW/250mW/500mW
Frequency bands (Nano RF Module 2.4G version): 2.4GHz ISM
Frequency bands (Nano RF Module 915MHz/868MHz version): 915MHz FCC/868MHz EU
Input voltage: 5V~12V
USB port: Type-C
Diagram
BETAFPV Nano RF module is compatible with radio transmitter which has the nano module bay (AKA lite module bay, e.g. Frsky Taranis X-Lite, Frsky Taranis X9D Lite, TBS Tango 2).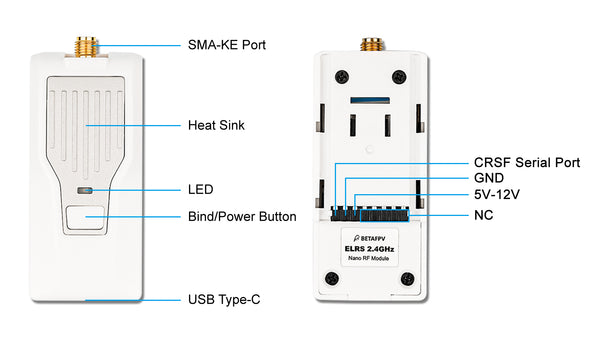 Note: Please assemble the antenna before power on. Otherwise, the PA chip in the Nano TX module will be damaged permanently.

Basic Configuration
ExpressLRS uses the Crossfire serial protocol (AKA CRSF protocol) to communicate between the radio transmitter and the Nano TX module. So make sure your radio transmitter supports the CRSF serial protocol. We use the radio transmitter with the OpenTX system to show how to set up the CRSF protocol and LUA script. To set this up, in the OpenTX system, enter into model settings, and on the "MODEL SETUP" tab, turn off the "Internal RF". Next, enable "External RF" and select "CRSF" as the protocol.

ExpressLRS use the OpenTX LUA script to control the TX module, like bind or setup. With the LUA script, pilots could check, and set up some configurations of the Nano RF TX module. For more details, please check the Support Page.
Save the ELRS.lua script files onto the radio transmitter's SD Card in the Scripts/Tools folder;
Long press the "SYS" button (for RadioMaster T16 or similar radios) or the "Menu" button (for Frsky Taranis X9D or similar radios) to access the Tools Menu where you can find ELRS script ready to run with only one click;
The below image show, the LUA script run successfully;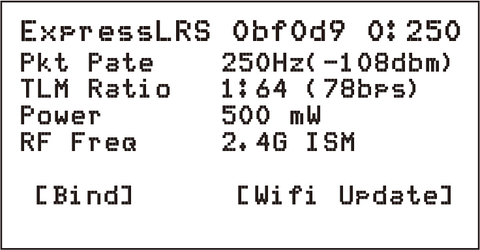 Bind & Output Power
Nano TX module could enter binding status via ELRS. Lua script, as described in the "LUA Script" chapter. Besides, a short press button on the module could also enter binding status.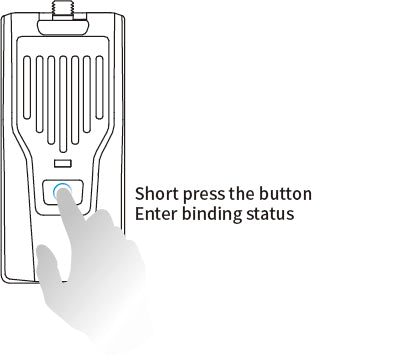 Note: The LED will NOT flash when entering binding status. The module will exit from binding status 5 seconds later auto. Short and consecutive press 3 times to bind.
Nano RF TX module could switch the output power via ELRS. Lua script, as described in the "LUA Script" chapter. Besides, long-press the button on the module could switch the output power.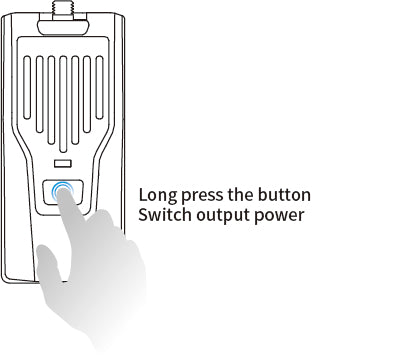 The RF TX module output power and LED indication as shown below.
| | |
| --- | --- |
| LED Color | RF output power |
| Blue | 100mW |
| Purple | 250mW |
| Red | 500mW |
Obsah balení
1 * BETAFPV ELRS Nano TX modul
1 * BETAFPV Moxon anténa
1 * Nano TX modul user manual