SuperD ELRS přijímač
Popis
Specifikace
 BETAFPV SuperD ELRS 2.4G Diversity Receiver
MCU: ESP32 PICO D4, dual SX1280 (SX1281)
Antenna Connector: IPEX MHF 1/U.FL
RF Frequency: 2.4GHz (2400~2480MHz)
Telemetry Power: 20dBm (100mW)
Receiver Protocol: CRSF
Input Voltage: +5V DC @ "+" pad
PCB Size: 22mm*14mm
Váha: 1.1g bez antény
Diagram
The diagram for SuperD ELRS 2.4G Diversity Receiver. Below picture is the front for RX.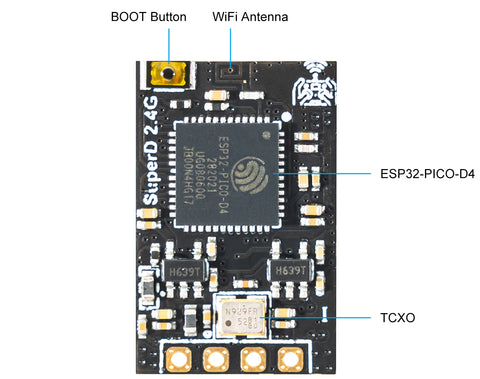 The back of the RX is below.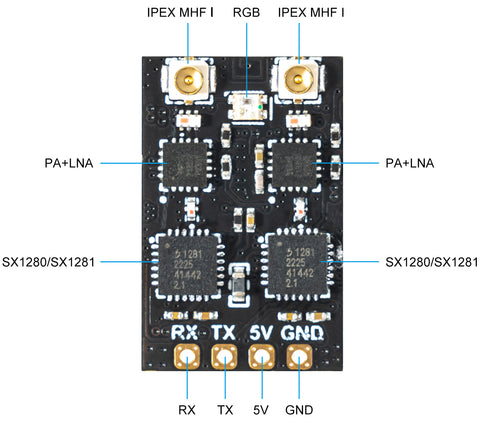 SuperD receiver RGB status indication is shown below.
| | | |
| --- | --- | --- |
| RGB Color | Status | Description |
| Rainbow | Fade effect | Power on |
| Green | Quick flash | WIFI upgrading mode |
| Red | Quick flash | No RF chip detected |
| Orange | Double flash | Binding mode |
| Orange | Triple flash | Connected, but mismatched model-match configuration |
| Orange | Slow flash | Waiting for connection |
| | Solid on | Connected and color indicates packet rate |
Configuration & Bind
ExpressLRS uses the Crossfire serial protocol (AKA CRSF protocol) to communicate between the SuperD diversity receiver and the flight controller board. Take the flight controller using the Betaflight firmware as an example to introduce its wiring and port configuration. 
The connection between the SuperD diversity receiver and the flight controller is shown in the figure below

Connect the flight controller to the Betaflight Configurator for basic configuration. First, on the "Port" page, enable the flight controller serial port (take UART1 as an example) as "Serial Rx". 

On the configuration page, set Receiver Mode to Serial (via UART) and Serial Receiver Provider to CRSF.
The default firmware of the SuperD diversity receiver uses the ExpressLRS V3.0.0 protocol and has no preset binding phrase.  Therefore, the firmware version of the transmitter module must be ExpressLRS V3.0.0 or later versions. Both the receiver and transmitter module should not have any binding phrase.
Power on and off the SuperD diversity receiver three times with 1 second between each interval continuously to enter the Binding Mode.
RGB indicator flashes twice quickly on the SuperD diversity receiver, indicating that the receiver is now in Binding Mode.
Configure remote control or transmitter module to bind with the receiver; If the receiver RGB indicator is solid on, this indicates that the receiver has successfully bound.
Obsah balení
1 * SuperD ELRS 2.4G Diversity Receiver
2 * BETAFPV Dipole T Antenna
1 * Pin Header
1 * 30AWG Silicon Wires (1 black, 1 red, 1 white, 1 yellow)
1 * User Manual