ELRS Lite receiver
Popis
ExpressLRS je open source projekt, který se snaží docílit co možná nejrychlejšího spojení (nejmenší zpoždění) v komunikaci mezi přijímačem a rádiem. Nespornou výhodou jsou miniaturní rozměry a použití keramické antény (není potřeba vymýšlet kam anténu přimontovat a nemusíte se bát o to, že ji posekáte vrtulemi). I s těmito vlastnostmi se však jedná o spolehlivou volbu pro racing i freestyle koptéry.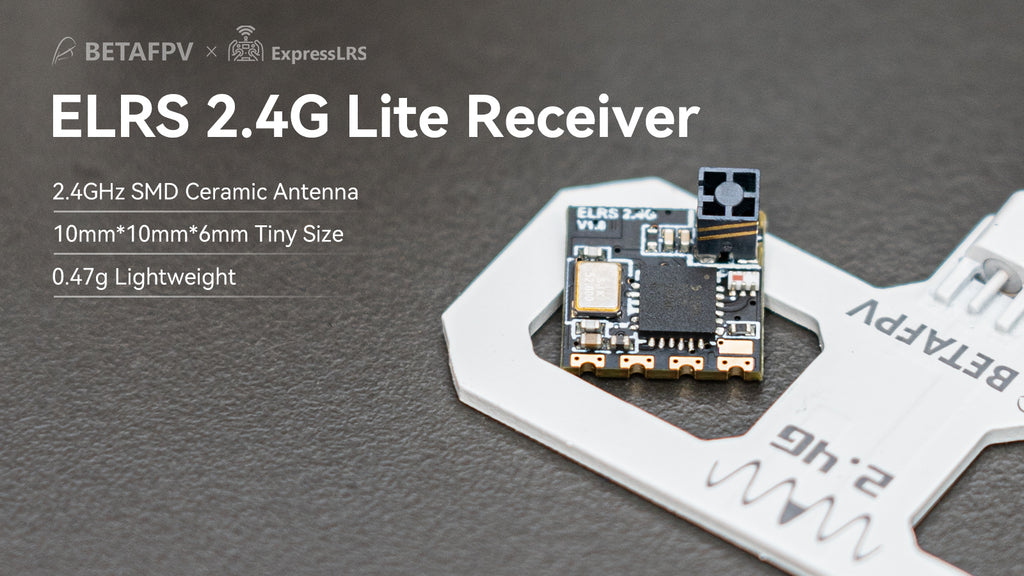 Specifikace
Váha: 0.47g (včetně keramické antény)
Velikost: 10mm*10mm
Frekvence: 2.4GHz ISM
Vstupní napětí: 5V
Diagram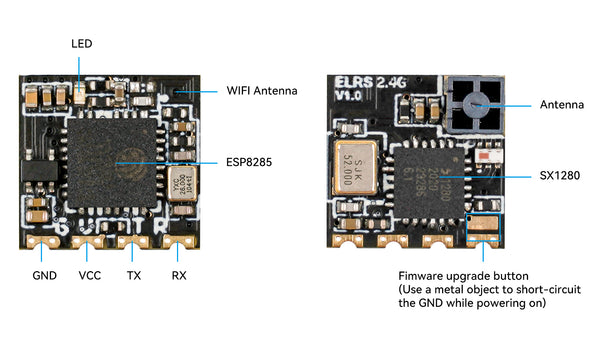 Note: The firmware version of the Lite receiver manufactured by our company is ELRS 1.1.0; ELRS Innovative team has officially released version 1.2.0, which is not compatible with the 1.1.0 version. We suggest our customers upgrade this receivers' ELRS version to 1.2.0 if needed. Significantly, the TX module and receiver have to be in the same ELRS version, otherwise, the frequency cannot match successfully.
Configuration & Bind 
ExpressLRS uses the Crossfire serial protocol (AKA CRSF protocol) to communicate between the receiver and the flight controller board. So make sure your flight controller board supports the CRSF serial protocol. Next, we use the flight controller with Betaflight firmware to show how to set up the CRSF protocol.
The connection between the ELRS Lite receiver and the FC board is shown below.

Enable the corresponding UART (e.g. UART3 below) as a Serial Rx on Betaflight Configurator "Ports" tab.

On the "Configuration" tab, select "Serial-based receiver" on the "Receiver" panel, and select "CRSF" as the protocol. Telemetry is optional here and will reduce your stick update rate due to those transmit slots being used for telemetry.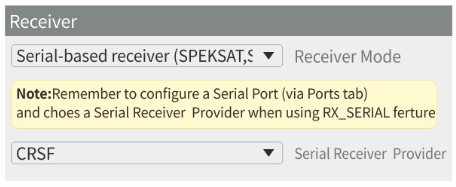 The Lite receiver comes with offically major release V1.1.0 protocol and no Binding Phrase inlcuded. Lite receiver could enter binding status by power on/off three times.
Plugin and unplug Lite receiver three times;
Make sure the LED is doing a quick double blink, which indicates the receiver is in bind mode;
Make sure the RF TX module or radio transmitter enter binding status, which sends out a binding pulse;
If the receiver has a solid light, it's bound.
Note: Binding once and the receiver will store the binding information. Re-power and the connect successfully auto.
Note: If you reflash firmware of the receiver with your own Binding Phrase, please make sure the TX module has the same Binding Phrase. The RF TX module and the receiver will bind automatically in this situation.
Obsah balení
1 * BETAFPV ELRS Lite receiver
2 * Spare shrink tube
4 * 30awg silicon connection wires (1 black, 1 red, 1 white, 1 yellow)