BetaFPV 0702 27/30k KV
Popis
Lightweight 65mm whoop drones are becoming popular among racing enthusiasts. As the lightest motors available on the market, our 0702 and 0702SE only weigh in at just 1.52g and 1.42g. Paired with Gemfan 1210 2-blade or 1208 3-blade Propellers and PEEK screws to further reduce weight to less than 18g with these lightweight components, providing superior flight performance. Perfect for 65mm whoop drones, it is the perfect choice for pilots who are looking to take their Whoop racing to the next level and stand out from the competition.
Bullet Point
These motors are customization designs for the ultra-lightweight 65mm racing drone, featuring unparalleled performance in extreme racing flight.
The 0702 motor boasts double ball bearings and weighs just 1.52g, or 1.45g without a connector. For those seeking even higher speeds, there's also a 30000KV option that provides more punch on the throttle. These motors are ideal for indoor FPV racing and enable aggressive flying.
The 0702SE motor features brass bushings, making it both lightweight at 1.42g, or 1.35g without a connector and highly efficient. This more affordable and durable motor is the perfect choice for extremely lightweight installations.
The truth is that for all speeds of 0702 motors, there is a 603 or 802 size motor that can achieve the same thrust with greater efficiency, the 0702 is favored by active FPV pilots for its ability to reduce weight away from the aircraft's center of gravity. The brass-bushed 0702SE motor is a reliable and cost-effective choice for these pilots.

Paired with

The PEEK screws only weighing 0.10 grams/12pcs, it can save up to 0.46 grams for a build. With more heat resistance, anti-friction, anti-shock, and anti-fatigue properties, the PEEK screws are both reliable and durable.
Paired with the ultra-light

Gemfan 1210 2-blade

or

Gemfan 1208 3-blade propellers, ensures robust power output and unparalleled responsiveness, perfect for racing and freestyle flight. Meet various needs of the lightweight whoop drone installation.
Specifikace
0702 Brushless Motors
0702SE Brushless Motors
Bearing
Dual Ball Bearings
Brass Bushings
KV
27000KV, 30000KV
25000KV, 27000KV
Weight
1.52g±0.03g
1.42g±0.03g
Weight Without Connector
1.45g
1.35g
Color
Black
Ice Blue
Shaft Diameter
1mm
Shaft Length
4.2mm
Hole Distance
6.6mm
Motor Mount Holes
M1.4
Input Voltage
1S
Cables
35mm including connector, 30AWG cables
Dimensions
12.75*φ9mm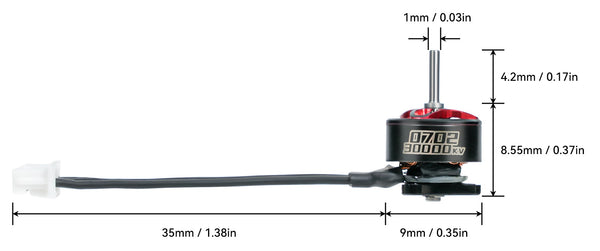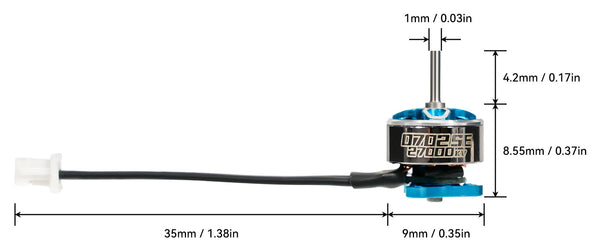 0702 and 0702SE Motors
Selecting the appropriate bearing for your whoop drones is crucial for achieving optimal performance and longevity. Brass bushings, being lightweight, are a cost-effective and durable choice for situations where crashes are more likely to occur. Conversely, dual ball bearings provide smoother operation, better high-speed performance, and a longer lifespan for your motor. By utilizing dual ball bearings, you can ensure your motor remains in its prime condition for an extended period while maintaining its high-level performance.
PEEK Screws
PEEK Screws is the ultimate solution for lightweight whoop, taking more grams off the build. PEEK screws only weigh 0.10 grams/12pcs, it can save up to 0.46 grams for a build that is using metal screws, while still being stronger and more durable than nylon screws. With more heat resistance, anti-friction, anti-shock, and anti-fatigue properties, the PEEK Screws are both reliable and durable. They are perfect for building 65mm/75mm size drones, including the lightweight Meteor series drone.

Note: when tightening the screw, it is important to pay attention to the tightening force to prevent the nut from breaking.

Propellers
For racing drones that require nimble and quick flight performance, the 1208 31mm 3-blade propeller is a suitable choice to pair with a 0702 motor that has a value of either 27000KV or 30000KV. Alternatively, for freestyle drones that prioritize acrobatic maneuvers, the 1210 31mm 2-blade propeller is better suited for a 0702 motor with a value of 25000KV or 27000KV. The selection of appropriate propellers and motors is crucial to optimizing the flight performance of a racing drone, and can greatly enhance the overall racing experience for pilots.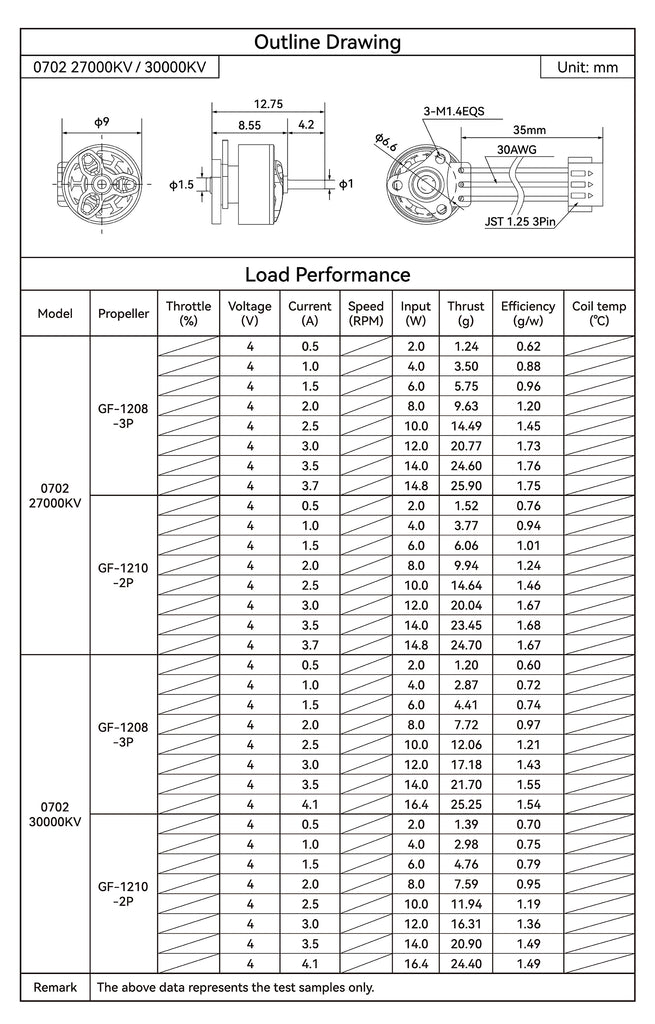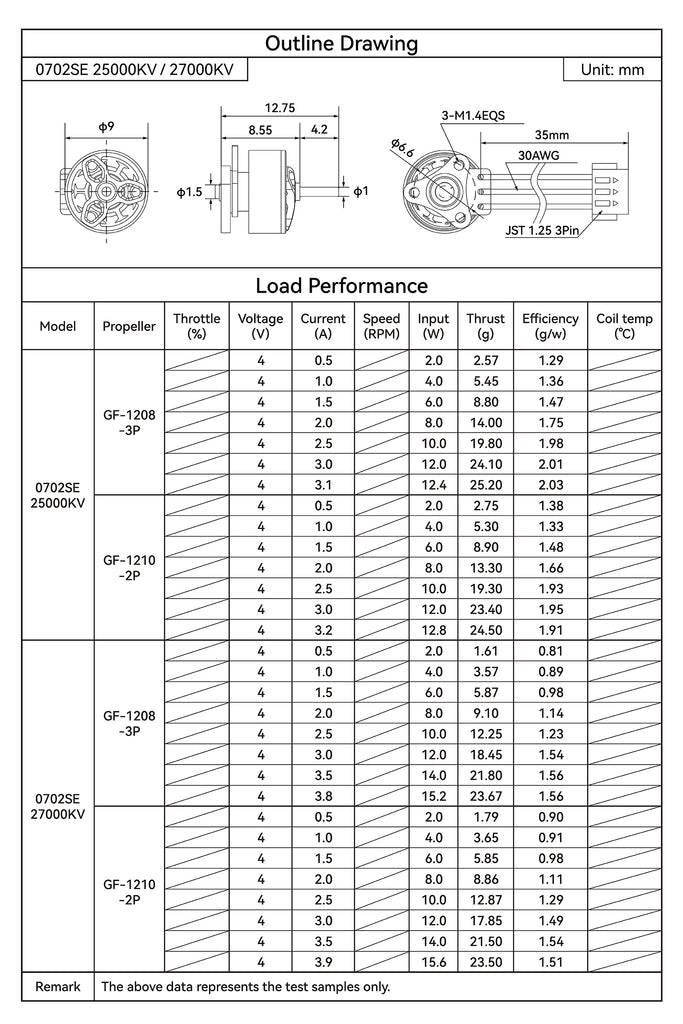 Obsah balení