F4 AIO 1s pro Meteor65 (Frsky)
Popis
SPECIFIKACE
F4 1S AIO FC(Frsky/Futaba Rx)
Váha: 3.92g(without antenna and BT2.0 connector)
VTX Power: 25mW
CPU:

STM32F411CEU6 (100MHZ )

Six-Axis: MPU6000 (SPI connection)
Firmware version:

betaflight_4.2.0_STM32F411

Receiver: Support Frsky LBT Receiver/ Futaba Receiver
Motor Pin Connecter: 1.25mm Header Pins
Mounting hole size: 29mm x 29mm / suitable for almost all kind of whoop frame
Built-in ESC with 5A continuous and peak 6A current
Input voltage: 1S Lipo
ESC firmware: O_H_5_REV16_8.HEX

OSD: Built-in BetaFlight OSD (STM32 controls OSD chip over SPI in DMA mode)

Signal support: D-shot150, D- shot300, D-shot600, Oneshot125, Multishot, PWM
4 Indicators: Receiver indicator (Blue)/

Flight control status indicator (Green)/

Flight control power indicator (Red)/VTX

indicator (Pink)
Diagram for F4 1S AIO FC(SPI Rx)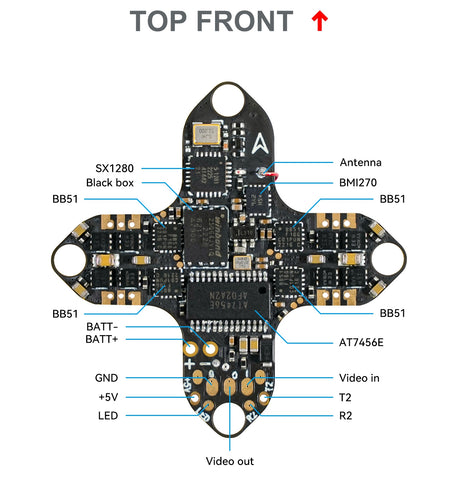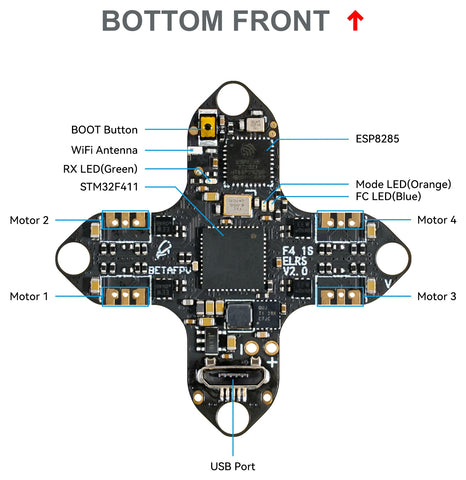 SPI Receiver CC2500
Come with the build-in SPI Receiver CC2500, F4 1S AIO FC(SPI Rx) can compatible with Futaba S-FHSS, Frsky D8 and D16 protocol. The default Frksy protocol is Frsky D16, if pilots buy the wrong receiver of the SPI Frsky version or upgrade the wrong firmware accidentally, which needs to switch the protocol to Futaba or FrskyD8, please upgrade the Betaflight Firmware according to this tutorial.
Configuration

Protocol

FRSKY_D

Frsky D8

FRSKY

_X

Frsky D16 FCC

FRSKY_X_LBT

Frsky D16 LBT

SFHSS

Futaba S-FHSS
Status LED for F4 1S AIO FC
(SPI Rx)
There are 4 LEDs on the bottom of the board to indicate the status, including the Receiver LED ( Blue), FC Status LED(Green), FC Power LED ( Red ) and VTX LED(Pink).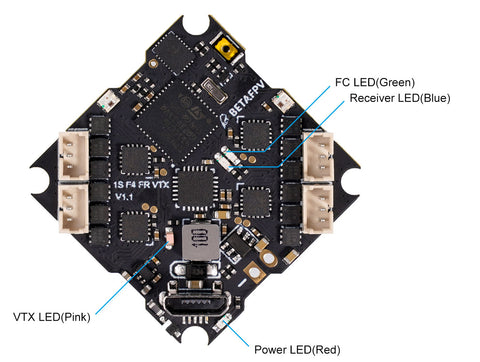 | | | |
| --- | --- | --- |
| LED | Status | Description |
| Receiver LED ( Blue) | Solid | Connected or in bind mode |
| Receiver LED ( Blue ) | Flashing | Not connected |
| Power LED ( Red ) | Solid | Power on |
| Status LED ( Green ) | Solid | Motor Armed |
| Status LED ( Green ) | Flashing | Motor Disarmed |
| Status LED ( Green ) | Off | Bind |
| VTX LED ( Pink ) | Flash Slowly | Work |