Meteor65 PRO ELRS
Popis
Oproti klasickému meteor65 má verze pro rám uzpůsobený pro 35mm vrtule pro zvýšení výkonu. Také má ELRS přijímač, což přispívá ke snížení tolik důležité váhy v kategorii whoop. V neposlední řadě nové VTx s až 350mW výkonem.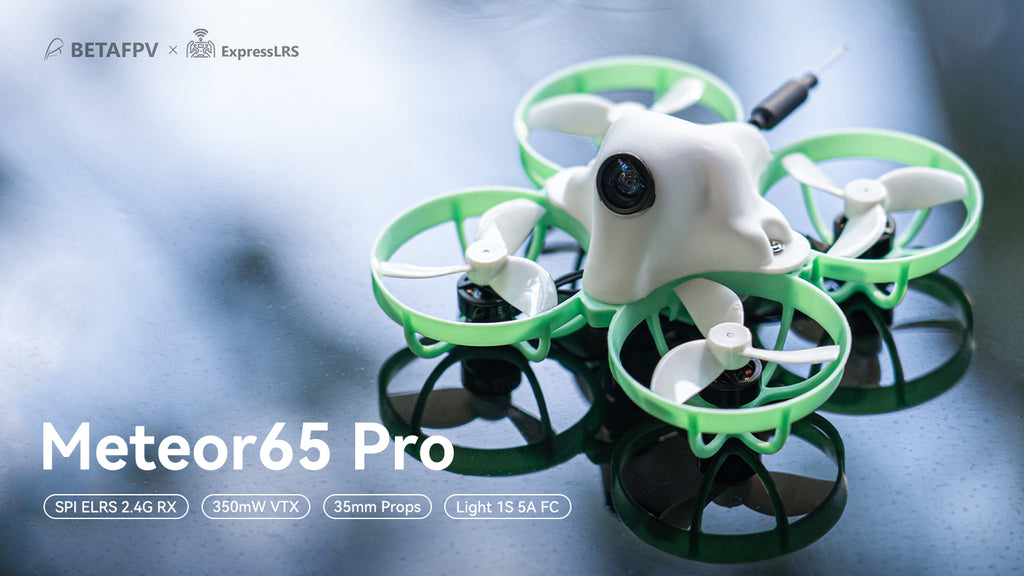 Specifikace
Váha: 22.0g (bez baterie)
FC&ESC:

F4 1S 5A FC (ELRS 2.4G)
Frame: Meteor65 Pro 65mm 1S Brushless Frame
Motors:

0802SE 19500KV Motor
Props:

35mm 3-blade props (1.0mm Shaft)
Camera:

C02 Camera
VTX:

M03 25-350mW VTX

Canopy: Canopy for Micro Camera
Battery:

BT2.0 300mah 1S Battery
Flight time:

4 minutes
Meteor65 Pro Frame & 35mm Propeller
Meteor65 Pro frame has the same perfect performance as the popular Meteor65 frame. The lightest lower profile 65mm frame to fit 35mm propellers. The battery slot is closer to the center of gravity for a smoother flying experience, and you will land on the motor screws instead of the battery.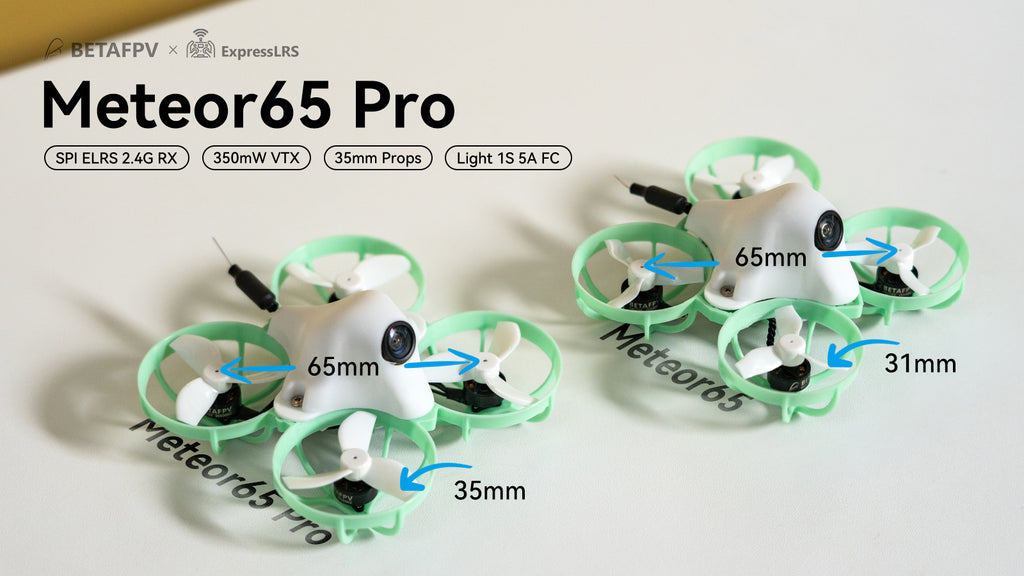 BT2.0 Connector
BETAFPV exclusive designed BT2.0 connector has broken through the bottle-neck of PH2.0 connector. BT2.0 connector has decreased internal resistance of connector effectively allowing more current to be transferred, which means it supports 9A continuous current (15A burst). This means stronger power and longer flight time on 1S brushless drones while PH2.0 just supports 4.5A. You can enjoy more flight time without disturb of low voltage warning due to reducing voltage sag. For more instruction, click here.
See the graph below of comparing the BT2.0 connector and PH2.0 connector (solid pin version) in BETAFPV 1S 300mAh battery. The discharge current is 9A in this test. The BT2.0 has double the time (about 2 minutes) and a 0.2v improvement in voltage sag.
Not sure if it's worth to switch BT2.0? Check more from Joshua Bardwell'video- Proof that BT2.0 connector is better than PH 2.0
Meanwhile, we provide 200 sets of BT2.0 300mah 1S battery(2pcs) as a free gift for everybody. Click here to grab BT2.0 battery / connector.
Much more choices of BT2.0 series accessories.
We know some of pilots might have a question about how to deal with the old PH2.0 1S battery. So we provide some accessories like BT2.0 connectors for those people who want to convert the PH2.0 connector to BT2.0 connector.
Motors
0802SE 19500KV Motor is a lightweight 1S motor, compared with the 0802 series brushless motors, it is not only significantly reduced the weight which is only 1.83g/pc but also ensuring the awesome performance of power and thrust. Lead wire soldered to the PCB, which allows you to repair it easier once it disconnected.
And the Racing version of Meteor65 is using the 0802 22000KV motors, which uses a ball bearing instead of brass bushings, and PCB connector. More durable and easier to repair once disconnected.
FAQ
1. Cli Dump of Meteor65 Pro Whoop Quadcopter (Click here to find the details).
Package
1 * Meteor65 Pro Brushless Whoop Quadcopter (1S)
2 * 300mAh 1S 30C Battery with BT2.0 connector
1 * BT2.0 Battery Charger and Voltage Tester

1 * TypeC USB cable

1 *

Customized Carry Case

1 * Spare 35mm 3-blade props (1.0mm Shaft)
1 * S

crewdriver
Vzhledem k chybě ve firmware, kdy může dojít k bricknutí gyroskopu, nedoporučujeme flashovat FC na novější verzi BF. Na závady způsobené flashováním nemůže být uplatněna záruka.